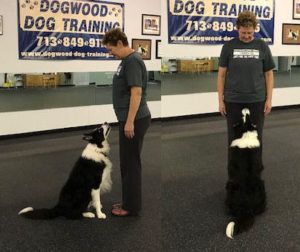 BRRRR, BABY it's COLD outside! So come in from the cold and learn how to perfect your dog's fronts.
Use this cold, cold winter to get those perfect fronts that you always wanted.
Fronts seem to be an easy concept and yet are HARD to teach your dog. The challenge is keeping your dog accurate and confident while maintaining speed and desire.
You are in luck! I know secrets to getting perfect fronts and maintaining a dog's desire and speed. During this class I will share with you my training secrets and techniques that will "balance" your training to achieve animated, consistent and yet perfect fronts.
All my secret methods that I will teach you, I teach to my dogs. Over time I found that certain techniques work better with some dog than others. While I generally use particular techniques with all my dogs, I always leave my options open when training if something else is needed.
See what past

GOLD

students are saying!
Peggy says
"I am most proud to report that OTCh Feature UDX5 OGM TD RN finished the year as #5 Border Collie and #23 All-Breeds. WOW!! So much of her success is because of YOU! Thank you so much!"
Patricia says
"Debby Quigley I have to say – this is the best thing we've ever done!!! His heeling has improved so much! 7 yrs. I've been working to no avail! Thanks!"
Kay says
"Loved the class, Debby! Learned some great stuff and had lots fun! I saw Danny grow up during this 4 weeks and our relationship improve!! Can't ask for more than that!! Thanks for all of your help!!"

Instructor: I am Debby Quigley. "I love to teach people and their dogs". Online technology gives me the opportunity to reach and help those of you and your dogs that cannot come to me for training. I have earned 4 OTCH's, 5 MACH's, a PACH, over a dozen perfect 200 scores, had the #1 ranked Border Collie in the Nation, placed three consecutive years at the AKC Obedience Invitational, and over 100 High in Trials and High Combines. My students have accomplished OTCH's, MACH's, PACH's, 200's, High in Trials, High Combines as well as many national placements and rankings."
Once you have a "free membership" please log in and the class purchase options will appear below.

If you experience any problemss when signing up. PLEASE email me. Me