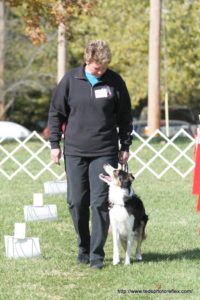 What????
You missed the first "Kickin Up Heeling" Class and all your friends took it and ranted and raved about the class? Did it make you want to cry seeing their dogs improve and have more fun heeling? 
Well ?????
Summer and showing are just around the corner.  NOW is the time to get your boots out of the trash and join me and your friends in the New and Improved Kickin Up Heeling 2.0. 
New and IMPROVED!!!!!!
YES the class is even BETTER! I have added and updated this class to be even MORE help in Kickin Up YOUR Heeling!

Leslye P. says – "I did the Kickin Up Heeling online course and it was everything I hoped for and more. It's a great course and more than that I enjoyed it. I've gotten a few 40 point heeling scores."
In this online class, I will teach you how to improve your dog's heeling, animation, desire, and attention! This class is full of MY secrets that I use with my own dogs to obtain and keep awesome focus and desire for heeling.

It does not matter if your dog is just beginning, or an experienced dog that needs beefed up heeling, or if you have taken a Heeling class before.  Sooooo let's get our boots on and get going.
Prerequisites for this class – This class is for any dog that understands basic heeling (can be in a loose heel position for 10 or so steps) to a dog working towards or has his OTCH that you want to shave off those little deducted points.
What you will get with this 4 week class;
I have specifically developed 4 modules on chosen topics that will improve your Heeling, increase your dog's desire, focus, attention, enthusiasm and make HEELING FUN for YOU and YOUR DOG!!
Access to class content and videos for 6 months.
PDF files for training logs and training reminders.
Exclusive FaceBook group for posting video, feedback, and community communication (Gold Level).
Each week contains detailed descriptions of all the steps and how to videos.
Feedback and input from me, DebbyQ  (Gold Level).
EXTRA bonuses including handler heeling cues, training concepts, and MORE!
NOTE: Teaching and perfecting turns will be offered in the Kickin Up Turns class.
See what past students are saying!
Peggy G says "I am most proud to report that OTCh Feature UDX5 OGM TD RN finished the year as #5 Border Collie and #23 All-Breeds. WOW!! So much of her success is because of YOU! Thank you so much!"
Patricia says "Debby Quigley I have to say – this is the best thing we've ever done!!! His heeling has improved so much! 7 yrs. I've been working to no avail! Thanks!"
Kay B says "Loved the class, Debby! Learned some great stuff and had lots fun! I saw Danny grow up during this 4 weeks and our relationship improve!! Can't ask for more than that!! Thanks for all of your help!!"
Class Objectives are:
My main objective is to teach you how to build and maintain desire, precision, and attention in your dog while heeling.  In so doing, you will learn some of the secrets of my success including:
One-way focus.
DIG "distractions initiate games".
Games and skills to challenge your dog's knowledge and improve position while heeling.
Handler cuing.
Proofing ideas and problem solving.
Loads of games and skills to make Heeling FUN for you and your dog!
SPECIAL Registration is OPEN!
If you have not taken my classes before, know that I:
build on foundation skills and games that can make your dog's future career successful.
break down each and every skill and give detailed Steps to Success.
For the Gold Group, I review submitted videos virtually every day and spend a great deal of time answering questions and giving feedback.
Instructor: I am Debby Quigley. "I love to help people and their dogs succeed in their goals". Online technology gives give me the opportunity to reach out and help those of you cannot come to me for training. I have earned many OTCH's, MACH's, PACH's, over a dozen perfect 200 scores, had the #1 ranked Border Collie in the Nation, placed three consecutive years at the AKC Obedience Invitational, and over 100 High in Trials and High Combineds. My students have accomplished OTCH's, MACH's, PACH's, 200's, High in Trials, High Combineds as well as many national placements and rankings."
Blue Level Includes:

Proceed at your own pace

6 Months access to content and video

Pdf training files

Bonus files and materials

NO FEEDBACK on your work

NO Access to the discussion & feedback community

Gold Level Includes:

Proceed at your own pace

6 Months access to content and video

Pdf training files

Bonus files and materials

FEEDBACK from ME on your work and videos during the class

Exclusive FaceBook group for posting video, feedback and community communication