Do you want your dog

EAGER

and ready to

SHOW

?

Want a

FOCUSED

, confident dog?

Wouldn't you

LOVE

to have a happy dog when you go into the ring?

YES, all this can be YOURS!
I can teach you

MY SECRETS

!
Go to a show with a

FOCUSED, CONFIDENT

dog!
Increase your

QUALIFICATION

rate!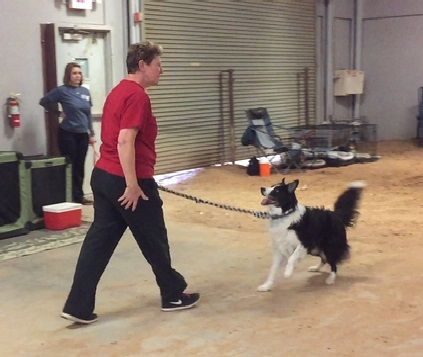 I am going to teach you how to improve your dog's focus, confidence, and consistency from training to showing.   Furthermore, you will learn games and skills to transition from training to the show ring with confidence, focus, and Self-assured.

This class is designed for everyone – For any young dog that hasn't started showing to a dog that has his OTCH/MACH.   It will help any handler regardless of their experience or lack of show ring experience.
What you will get with this 4 week class;
I have specifically developed specific games and skills that will improve your TRAINING and SHOWING and help you become more successful!
Access to the class material for 6 months.
Pdf files for training logs and training reminders.
Exclusive FaceBook group for posting video, feedback, and community communication. (Gold Level ONLY)
Detailed descriptions of all the training steps, along with how to videos.
Feedback and input from me, DebbyQ (Gold Level ONLY)
and Much Much MORE!
See what past

GOLD

students are saying!
Kay B says  "Loved the class, Debby! Learned some great stuff and had lots fun! I saw Danny grow up during this 4 weeks and our relationship improve!! Can't ask for more than that!! Thanks for all of your help!!"
Liz H says  "I'm taking the course for the second time and am reminded of the small nuances and steps that can make a big difference in the teams performance, commitment and engagement. …. Reading the material resonates more and I'm saying yep, yep … the little things build to the bigger picture.  WAIT, didn't you say that…Yep."
My main objective is to teach YOU how to get the

MOST

out of your training/showing, and to learn games and skills to carry your success from training into the show ring!
Here are a few topics that I use and will cover in the class.
Transitions and Games that you can take into the ring.
Consistency – a key to success.
Proofing – ways to get the most out of testing your dog.
Mindset (Mental Attitude) – one of the most overlooked skills and a key to my success.
Warm-up – developing the best way to get.
Ring-A-Ling – this is one of my favorite training secrets.
One of my favorite Secrets – this will teach your dog to turn on AND off.
Ring Wise – how to prevent and solve issues.
Training plan – come up and devise a plan to get the most out of your training.
Show notes – once the show is over there are key components you need to be able to see and note for future training sessions.
How you to make training and showing the SAME!
Special Registration ends June 21st! 

Gold spots are limited!

  Week 1 Opens June 28th at NOON Central Time.
If you have not taken my classes before and joined the Gold Group, know that I:
Give personal detailed feedback, and I am with you every step of the way.
Review the videos virtually every day and spend a great deal of time reviewing every video submitted.
List specific places in your video that need attention and give you ways to correct any issues.
Not sure if you want to go

GOLD

?
Vera says "Being a member of Debby Quigley's GOLD membership on the online class is like winning the gold! I have recommended the gold membership to many folks and I will continue to do so!!!! Just go for the gold, you won't be sorry!"
Instructor:
I am Debby Quigley. "I love to teach people and their dogs." Online technology gives give me the opportunity to reach and help those of you and your dogs that cannot come to me for training. I have earned 4 OTCH's, MACH's, PACHs, over a dozen perfect 200 scores, had the #1 ranked Border Collie in the Nation, placed three consecutive years at the AKC Obedience Invitational, and over 100 High in Trials and High Combineds. My students have accomplished OTCH's, MACH's, PACH's, 200's, High in Trials, High Combineds as well as many national placements and rankings."
Blue Level Includes:
Proceed at your own pace
6 Months access to class content and videos
PDF training files
NO FEEDBACK on your work
NO Access to the discussion & feedback community

Gold Level Includes:
Proceed at your own pace
6 Months access to class content and videos
PDF training files
Bonus files and materials
FEEDBACK from ME on your questions and videos
Exclusive FaceBook group for posting video, feedback and community communication for the 4 week class.
A training challenge each week
Registration is Closed