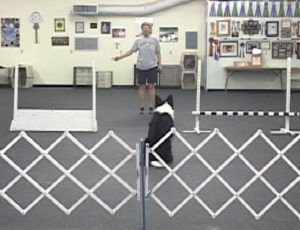 Description of Exercise:  There will be two jumps in the ring that are set 18-20 feet apart.  One jump is a High jump while the other is a Bar jump.  The exercise consists of two parts.  Each part is identical except that a different jump is used in each part.  Once the dog reaches the Go-Out point, the directed portion of this exercise begins.  The judge will order the handler to have their dog either "Bar" or "High" jump (it is the judge's decision which jump to use first).  The handler will then command and/or signal the dog to jump the correct jump and return to them in front position.  The dog should clear the jump, come to front, and sit squarely in front of the handler.  The judge will then order the handler to "finish" the dog returning to heel position.  The exercise is then repeated with the dog jumping the other jump.
This class is only offered once a year!  This is Part 2.  Directed jumping class will continue Go-Outs + add Directed Jumping. 
This class has all you need to train Directed Jumping and sequence the exercise. 
(Go-Outs are taught in a separate class.)
What you get with this class:
* "How to Teach" videos and written instructions.
* Games to build desire and fun.
* Drills to practice and perfect.
* Learn the best way to sequence and maintain desire and build accuracy.
* Problem Solving.
* Proofing, the best step for your success.
* Easy to use training log.
* Points to Remember PDF.
* 6 month access to class content.
* Video feedback and questions for 4 weeks in a private FaceBook group.
*Zoom meeting
This class is only offered once a year!   
Registration Closed.  Hope to see you in other upcoming classes.