Be careful not

"ADVERTISE"

rewards to your dog.

Page Links
Topic
Monthly Drill Progression
RSG
Balance - Sit/Down
Watch2WIN
PDF Files
CORRECT USE OF
REWARDS

WILL HELP REINFORCE AND MOTIVATE YOUR DOG.

Unless you are teaching a new exercise to your dog, keep all food and/or toys hidden. Be careful that you do not "advertise" any reward or game to your dog. Your dog will appreciate the reward much more if it comes as an absolute surprise.

TIP – When using food/toy rewards, if your dog SEES it, then that is what he is thinking about!  When using food or toys as a reward, keep it out of sight until the second you whip it out to reward.  Unless you are teaching a new exercise or skill to your dog, keep all food and/or toys hidden.

Be careful not "ADVERTISE" rewards to your dog.

Also, make all games a surprise.  Deliver or present the game/reward quickly.  While training, always be prepared to break into a game or a consequence.  The longer you delay, the more inadvertently you are encouraging your dog to react slowly to a command or signal.

In the long run, your dog will appreciate the reward or game much more if it comes as an absolute surprise.

Reinforcement can include treats, praise, petting, or a favorite toy or game. Since most dogs are food motivated, treats can work especially well for training. Next to food and toys, dogs love attention! Instead of, or in addition to using treats and toys during your next training session, reward your dog by providing praise, affection, or applause. Yes, clapping for your dog. He will love it! When your dog performs a skill you have been trying to perfect, tell him "Good Boy!" in a happy, upbeat tone and applaud his efforts. You both will find training much more enjoyable with the extra affection added to your training sessions.

The do's of using food~
A treat should be irresistible to your dog. Experiment a bit to see which treats work best.
Treats should be a very small, soft pieces of food, so that your dog will be able to immediately eat the treat and look to you for more. Avoid treats that your dog has to chew or that breaks apart into pieces on the floor.
Keep a variety of treats handy so your dog will stay interested in what is coming next. Place all types of tasty treats in a bag that will become a smorgasbord for your dog.
Each time you use a food reward, pair it with a verbal praise. Say something like, "Yes!" or "Good" in a positive, upbeat voice.
When to give treats ~ When your dog is learning a new behavior, reward him every time he does the desired behavior. Once your dog has learned the skill, switch to random reinforcement. Gradually reduce the number of times he receives a treat for doing the skill. Reward your dog's best efforts.
At first, reward him with the treat four out of every five times when he does the behavior. As he perfects the skill, reward him three out of five times, then two out of five times, and so on. Use a random reinforcement schedule. Your dog will soon learn that if he keeps responding, eventually he'll get what he wants.
By understanding the use of reinforcement, you'll see that you are not forever bound to carry a pocketful of treats. Your dog will soon be working for you because he wants to please you, and knows that occasionally, he'll get a treat or a game of tug too.
Questions? Ask DebbyQ
Monthly Drill Progression – Using Meal Time for Training
This week we are continuing to progress on our Meal Time fun! 
Mealtimes are great opportunities for us, the trainers, to get in additional training.  Continuing to build and vary your criteria will keep your dog thinking and focused.
Progression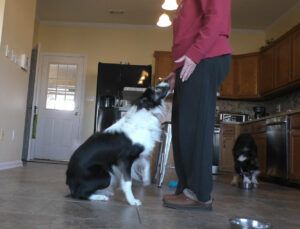 I know many trainers often ask their dogs to sit and wait while they place the food bowl on the floor.  I feel that meal time is a great opportunity to build and SEE what desire really looks like with a dog.
This month's challenge will take you through my routine meal progression in my non-routine way.
REVIEW – Week 1 –  Dog sits and waits until I place food on the ground.  Haha, with a focus twist.  That he has to look at me before getting a release cue to eat.
REVIEW – Week 2 –  Placing the fixed food bowl on the counter, I will move away from bowl and ask for a simple skill. Such as a sit OR down OR spin.  I will get the bowl and yes, my dog then needs to focus on me (I do not use the wait word) until food bowl is on floor and he is giving a release cue.

NEW

– Next, I place the bowl on the ground; yes my dog is expected to wait without a command. I will ask for a simple skill with the bowl on the ground.  At first I move away from bowl and ask for a front, line-up, walk with me etc.  My dog MUST be focused on me.
NOTE:  your dog should look at you after you have placed the bowl on the floor BUT before asking for a skill.
MORE next Week —
Video Notes: Poe is working at meal time again. We do something every morning and sometimes morning and evening depending on how much time I have. Poe is extremely food driven so this drill definitely challenges him. He gives great effort with the challenge and I am pleased with his progress. New challenges next time.
BEFORE PROGRESSING, REVIEW YOUR CHECK LIST.
Meal Challenge – Food on Floor Plus Skill Checklist
Questions? Ask DebbyQ
ReadySetGo – for Agility and Obedience & Rally
This week we are adding yet another NEW game that may be done anytime after facing or as your dog is coming toward you.  RSG games are a fun way to build FOCUS and DESIRE and can be used anytime you leave your dog or he is coming toward you.
Goal – To continue to teach and build focus and desire with your dog by adding thin new game as your dog is running toward you. 
Your Task for April Week 3
Game 7:  Throw between your legs – facing your dog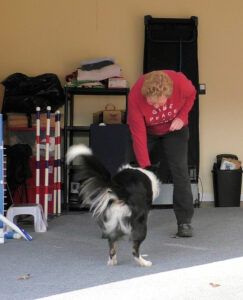 Tell your dog to sit.
As you are walking away from your dog, turn to face your dog, and tell him to "get it" as you throw a toy/treat between your legs.
Your dog should run between your legs to get  the toy/treat.  Practice the toss between your legs before adding into a recall.
When your dog gets the treat/toy have him dash back to you for more treats or play tug with the toy.
Start to train this game with your dog going through your legs from a few feet in front of you.  Gain distance as your dog becomes confident running through your legs.
COMMON ERRORS – Handlers Make
Your dog is great with a game up close, but looks away when you are at a distance from him.  Vary the distance your dog is from you when you begin these games!  Over successful training sessions, lengthen the distance you are from your dog.  Do not rush to get distance, instead get consistency, focus, and confidence THEN distance.
Your dog responds slowly when you call him and then speeds up only if you start a game.  DO NOT use a game to "speed your dog up!"  Instead, play games spontaneously when your dog least expects it.  Make games a reward instead of a lure.
Your dog is anticipating the recall/game.  Balance game play and stay reinforcement, according to your dog's needs.  If you have a high desire dog, balance games with rewarding the sit or stay more often.  If you need to build your dog's desire, play more games.
RSG Games teach your dog to have focus and remain in an "active" state while you are leaving, calling, or he is coming toward you.
Video Notes: Poe is first in this video and just being introduced to this game. I remain close to show Poe what and how he is expected to react. Poe does a great job of remaining in a sit until released as well as going through my legs each time and immediately thinking about getting back to me once he has snatched the tossed treat.

Karrde and Riker are next demonstrating RSG Games.  During this video, I LOVE the way both boys are staying in an "active" state when leaving them in a sit.  While training, both boys "thought" about anticipating coming to me.  In order to maintain their sit stay, I rewarded each dog a few times in their sit.  OR after leaving, I praised my dog for effort to stay and "thinking" about the correct behavior.
Karrde is learning this game, so I start the game close to him and let him learn the correct response.  As he catches on, I leave him at more distance, but continue to vary when the game is done.  When he almost anticipates, he makes the correct decision and I go back to him to reward.  Riker has a chance to play too.  He was staying in an active state before called.  Great job boys!
BEFORE PROGRESSING, REVIEW YOUR CHECK LIST.
RSG 7 Throw Between Your Legs – Facing Your Dog Checklist
Questions? Ask DebbyQ
Adding a SIT or DOWN is next on our Balance list.  Remember, I do not use a "STAY" word, I expect my dog to remain/stay in a position, sit, until released.  Personally, in addition to the "come" command, I feel a fast, reliable SIT/DOWN and remaining in place is an important LIFE skill.
Goal -To continue to build "balance" to your dog by going to a crate or bed while adding NEW skills and continuing to test and challenge your dog.
The most important thing for teaching a fast "SIT" or "DOWN" command, is building your dog's HABIT of always responding fast to your FIRST command.  When starting to teach these skills, I teach a random SIT/DOWN while my dog is on leash and away from equipment or other skills.   Also, I will utilize games, such as the Cookie Toss Game, to teach the fast SIT/DOWN.  While playing the Cookie Toss Game, I will add a random SIT/DOWN command as my dog is going to or returning from getting a treat.   Only when I have a good random SIT/DOWN, will I add to my balance work.
Your Task for April Week 3
What you need
A crate or bed.
A dog that will go to a crate/bed from a distance.
A dog that will come when called.
A dog that understands a sit/down on command.
Soft treats your dog enjoys.
Adding SIT/DOWN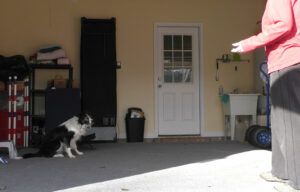 Have your dog and bed in a low distraction location. Remember always start easy if you are increasing difficulty.
Stand with your dog close to the bed, then send your dog to his bed.
Toss a treat on the bed to reward your dog.
Release your dog by giving your "come" command.
As your dog gets close to you, give your SIT/DOWN command/signal.
If your dog does a fast, prompt SIT/DOWN, praise and toss him a reward.
If your dog stops in a shocked manner looking at you, remind him to SIT/DOWN and praise BUT NO TREATS.  The reminder SIT/DOWN is only used a limited time!
Release your dog to come to you and reward or play.
Send him back to the bed and reward him while he is on the bed.
Call your dog to you.  When he gets to you, place your hand in his collar and feed treats.
Now you can start to mix up the commands you use throughout the session.
Occasionally, have your dog SIT/DOWN and walk away from him.  Test that he will remain in place.
NOTE:  your dog should stay in the SIT/DOWN AND should not go back to the bed or come to you unless you have given a command.
Here are a few sequences to give you some ideas of what a session might look like.
Send your dog to the bed, call and sit/down him on the way back to you.  Go to your dog and reward and then release him.
With your dog on the bed, call your dog to you, take his collar and feed a few treats, release the collar and send to the bed.  Reward on the bed.
With your dog on the bed, call your dog to you, take his collar and feed him a few treats, release the collar and send him back to the bed.  As your dog is headed to the bed, give your sit/down command.  Praise for correct response and send your dog on to the bed and reward.
Once on the bed, call your dog and start to back up, sit him while he is coming to you as you continue to move back.  Praise, reward, and release.
COMMON ERRORS – Handlers Make
Allowing your dog to get off the bed before released.   If our dog leaves the bed before being released, take his collar and placed him back on the bed.  Praise BUT NO treats.  Consistency pays off.
Giving multiple commands once your dog understands the skill.  Once your dog understands the skill in many different locations and with distractions, ALWAYS expect your dog to do your command quickly and the first time commanded.
Creating a routine in the drill.   That is, always doing the same sequence.  Mix it up and keep your dog guessing where he will sit or what he will do next.  Variety is the SPICE of LIFE!
Video Notes: Poe is getting to experience his first time at balancing Bed Sit/Down.   While he did well, he did have a few issues with leaving me when he knew treats where in my hand as well as dropping going away from me.  When he was confused, I helped him through with either giving a second command or giving him a jump start with the skill.   Not seen in video, my neighbors across the street came home and where watching from a distance.  This was a great learning experience for Poe!
BEFORE PROGRESSING, REVIEW YOUR CHECK LIST.
Questions? Ask DebbyQ
Watch2Win – Wean off visible cues and starting to break eye contact -Before you get your dog out to train, get out all of your rewards (treats/toys) and put them in your pockets or somewhere on your body.  Rewards (treats and/or toys) need to be a SURPRISE from here on out with this skill.
Goal – To build on the W2W game with our dog and to continue to build engagement and focus even when we are in an inactive state.
The
Watch2Win Game
(W2W) is a great way to teach your dog that it is his responsibility to stay engaged with you in order to have more FUN!  In other words, wonderful things will happen, and the "reward/play drawer" will open, if he remains focused on you.
Your Task for April Week 3
What You Need
A low distraction area.
Soft treats that your dog loves and can eat quickly.
Toys to play tug.
Wean off EYE contact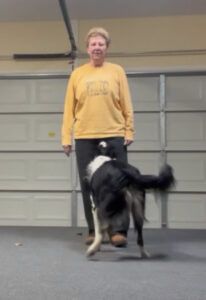 Start in a low distraction and play and interact with your dog.
Stop all interacting and playing with your dog, move slowly backward and reward your dog for maintaining focus.
Continue walking back and briefly break eye contact with your dog, but keep your dog in your peripheral vision.  Keep your face in your space, i.e. your face should be pointing in the same direction as your shoulders.
If your dog continues to look at you and or moves towards you, praise and engage with him by rewarding your dog with a toy, a treat, playing the KrazyKookie Game, petting, etc.
Repeat practicing W2W a few times briefly breaking eye contact.
When you are finished training,  give your dog an "all done" word, but stay engaged with your dog as you put him in a crate.
COMMON ERRORS – Handlers Make
Your dog drops his head or looks away when you take your focus off of him.  Make sure your training area is not distracting and reduce looking away from your dog for 1-4 seconds.
Your dog does not try to re-engage after he has gotten a treat off the floor.  Review your Get It Game as this is the foundation for this skill.  Also, make sure every time your dog gets a treat off the floor insist on a quick return and loads of fun!
Lack of EFFORT?  If your dog loses focus or does not give effort, abruptly turn away from your dog and abort the repetition.  Wait to see if he will re-engage with you.
When training has finished, I keep my dog engaged and focused on me while we go to his crate with play or the KrazyKookie Game.  This HABIT helps to build on the focus and engagement my dogs give me when out and about.
Video Note:  Poe and I are starting to wean off eye contact while working on W2W.  As we train, I switch from eye contact to no eye contact.  I reward all his successful efforts.  Anytime I spit  treat to him, I insist on him grabbing the treat and rushing back to me to regain focus. It was a great session.

BEFORE PROGRESSING, REVIEW YOUR CHECK LIST.
Watch2Win – Wean Off Eye Contact Checklist
Questions? Ask DebbyQ