Training Tip and image ..
first of month – challenge instead of topic
goal is 4 skill topics per week
Page Links
Topic
Monthly Drill Progression
Transition Games
Redirect2WIN
DIG
Monthly Review
PDF Files
Topic –
wean off – advertised rewards
Wean Off LURES – Or shift responsibility to your dog!
Once your dog understands what you expect/command, extra help such as verbal reminders, leg pats and leash cues should no longer be use.  In addition, at this stage, and food should no longer be used as a lure.
In the final stages of training, treat incentives become a reward for correct responses.  As your dog becomes more proficient, the reward should be given to your dog on a random basis to reward only the best responses and best efforts.  If your dog chooses not to respond correctly, the reward should be withheld/consequence.
To ensure your dog will perform the exercises when a toy or food are NOT present and without any help, follow these simple guidelines:
Make sure your primary reward is your praise and that the toy and/or food are the secondary rewards. Praise can be used in the ring, but NOT toys nor food.
The reward your dog receives should match the amount of effort he puts forth!
Shift the responsibility of the skill to your dog.  This means no help from you, i.e., cues or extra commands. The first command is what counts!  Remember that there are no "do overs" in the ring.
Once your dog understands how to perform a skill or exercise, only reward his best efforts!
Avoid always advertising the fact you have food in your mouth or toys in your pocket!
As your dog becomes more proficient and you are preparing to show, the use of food and toys should become random.
Use of REWARDS
Deliver food to your dog in a variety of ways.  Sometimes spit or throw treats, and at other times feed him from one hand or the other.  Do not give your dog a treat after you correct him.  Instead, give him the opportunity to repeat an exercise correctly in order to receive his reward.
Placement of food/rewards can accentuate your training.  Example: reward your dog up and forward to increase your dog's drive forward or reward from behind you to discourage forging.
More next month………..
Questions? Ask DebbyQ
backing – adding more steps
Moving Backward is my FAVORITE transition game.  First, it is a great way to warm up your dog before training or showing.   Backing up also helps to keep your dog's focus on you, is an easy way to get through the crowds, AND it is fun!
What You Need
2 leashes.
Soft treats that your dog loves.
Low distracting location like your living room, a hall, etc.
This will teach your dog how to walk backward in front of you, while you walk forward.  Be careful not to go too far, too fast when teaching backing up!  This is a difficult skill for many dogs, so take your time and use a lot of rewards.
FUNdamentals
I like using 2 leashes that are attached to my dog's collar.  I put one leash in each hand.  This helps me to encourage my dog to move to the right or left to maintain being in front of me.
Attach both leashes to one collar with the clip under the dog's chin or if using 2 collars attach one leash to each collar with one on each side of the dog.
Keep your arms and hands close to your side and your feet pointed toward your dog.
Begin with your dog standing in front of you, and focusing on your face.
NOTE: hanging a visible treat from your mouth will help your dog focus on your face.
Take one step towards your dog.
Praise your dog for ANY movement or for stepping back.
Reward your dog for movement while he is standing rather than sitting.
Progression
Have your dog on 2 leashes and in front of you.

Start to slowly take 2 steps forward (toward your dog) and reward your dog for moving backwards.

Keep your arms and hands at your side.

FEET forward and together walking toward your dog.

Move slowly, giving your dog a lot of verbal feedback and reward as he moves backwards.

Over time, increase the number of steps you take to 5 before rewarding your dog.

Reward your dog while he is in motion.

Keep the number of steps you take before rewarding your dog to a minimum.

If your dog is successfully backing 5 steps, add 2-3 more steps, but continue to move slowly, reward frequently and ALWAYS give your do

g a lot of verbal feedback.
Bump It UP!
Now that your dog is backing up while in front of you, start asking your dog to back while you slightly turn to the right or left.
Turn a small amount, and give your dog praise and REWARD for any effort.
I find it helps to apply tension on the leash to the side you are turning toward.
Keep your arms and hands at your side.
Slowly increase the amount of the turn while you are backing.
Reward a lot for any effort from your dog.
Problems?
When teaching the backing up, your dog moves  to the right or left instead of backing up straight –
Have a barrier on the ground to prevent the sideways movement.  Use something like gutters, a broad jump board, shrubs, etc.  Make sure the height of the barriers is below your dog's elbow.  Backing your dog down a hallway is very helpful to begin BUT wean to a lower barrier as quickly as possible.
Use two leashes your dog.  Attach 2 leashes to your dog's collar.  With your arms at your side, hold the end of a leash in each hand.  Give slight pops, or tension with your right or left hand to adjust your dog's lateral movement.  If your dog moves to your right, pop/tension the leash in your left hand and visa versa.
If your dog tries to sit, don't stop moving, rather keep walking straight into your dog.  He will stand up and move to get out of your way.  Praise and reward any motion your dog offers.
Proofing – Once your dog will walk backward and in front of you at a normal pace, start adding a few
simple distractions to test your dog's knowledge of the skill.
For example:
Have your dog walk backward in front of you as you walk through a ring gate opening.
Walk your dog backward past a person or another dog.
Walk your dog backward past chairs, jumps, trash cans, etc.
COMMON ERRORS – Handlers Make
Hands held out and away from the handler's body.  Hold hands close to your body.  This body posture will transfer easier on the finished skill.  The photo to the right is wrong.   :>0
Rushing the training or going too many steps when first teaching your dog.  This skill takes a lot of time and patience to train, take your time and build a history of success and reward.
Lack of reward and verbal feedback.  Let your dog KNOW when he is doing well!
Handler DUCK walking.  LOL.  The handler's feet apart and walking one step, then the other around the dog.  Many handlers do this to avoid stepping close to their dog.
Not building DESIRE before asking for precision.  The more reward and encourage the better!
Video Notes:  Riker is in the first clip and is learning this skill.  I use a lot of praise and reward for all effort he gives.  I prefer to use 2 leashes when I train this skill.  This goes back to my old horse back-riding days.  :>)
NOTE: how I keep my arms close to my body while tightening the leash.  Also, I give Riker verbal information, and spit treats to him as he is moving.
Sly is in the second clip and he LOVES this skill as you can see by his enthusiasm.  Again, I toss or spit treats to Sly while he is moving.
Rip is in the next clip.  He has been doing this skill a long time, and although not as flamboyant as Sly, Rip has fun backing up too.  Even with my experienced dogs, I randomly reward backing up, by either spitting or tossing a treat. 
Finally, there are a few clips of a dog show.  This skill is great for going into, or coming out of the ring.  Be sure if you are in the ring, that you do not want to waste time, or delay the ring.  My end goal while doing this skill, is that I am moving with my dogs at a normal pace.
Your Task for this Week 
BEFORE PROGRESSING, REVIEW YOUR CHECK LIST.
PDF
Questions? Ask DebbyQ
step 3 – proofing new locations … people etc
Your Task for this Week 
Redirect/WIN is an easy way to redirect your dog from a distracting situation.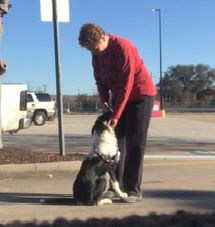 It also helps to teach your dog to focus on you when there is a distraction.   In addition, this is great if your dog reacts in a negative manner to barking dogs or sounds.  Simply do Redirect/WIN.  This skill can take you a long way.
FUNdamentals
Get your dog, a leash, and some yummy treats.
With your dog on leash, go to and walk around your front yard.  We want to start with light distractions to teach the proper response.
When he is busy sniffing or looking at something interesting, say your "come" command and take a few steps back and away from your dog.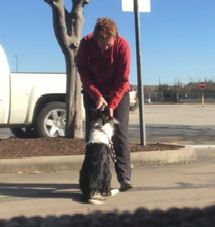 Make sure he is distracted!
We want your dog to be facing you with his back to the distraction.
When your dog comes to you, place your hand in his collar, ask for him to sit, and feed him a number of treats.
Release him from the sit and begin walking again.
Always reinforce this command by praising your dog as he moves toward you and feeding him high value treats when he gets to you and while he is in a sit.
Bump up the Skill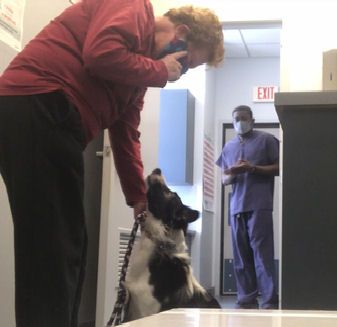 Once your dog is responding well, it's time to start adding more distractions.
Over training sessions go to new locations such as parks or retail stores.
Save the most distracting locations for last, training buildings and dog shows.
Always simplify in new location by staying further away from distraction and reviewing criteria of the skill.
The GOAL is to be able to Redirect/WIN in any environment and with all distractions.
This is an easy way to redirect your dog from a distracting situation.  Say your dog's name OR "come" while taking a few steps away from your dog and the distraction.  As soon as your dog turns toward you, reward him with several pieces of "high value" food.  Many times this exercise will defuse an adverse situation.
COMMON ERRORS – Handlers Make
Giving your dog too much time to respond to a cue.  Don't wait to see what happens.  Give your dog a command and expect an immediate response.  If your dog doesn't respond, take his collar and muzzle and back up and have your dog sit.  Praise calmly.
Your dog refuses to turn his back to the distraction.   Progress slowly with this skill and only increase difficulty when your dog is confident and successful.  If the area you have chosen turns out to be too difficult, move away 10-20 feet and try again.   Time and persistence pays off!
Video Notes: This is Poe's first effort at Redirect/WIN skill.  We stopped and trained at a few places while I was out running errands.  Each session has been just a few minutes.  I would rather spend a few minute at several places rather than all my time in one place.  
Poe picked up on this very well.  Distractions were a bit high for his first attempt, but overall did well.  I would have simplified anytime if I felt what we were doing was too much for him.   When training, I waited until Poe became distracted to practice the Redirect and praised big time while holding his collar.  
We stopped at the vet's office and got a bit more training in.  This was a great opportunity to show how I address a dog that starts to bark at a stranger.  Redirect and insist he sit in front.  We will definitely continue to work on this.  
BEFORE PROGRESSING, REVIEW YOUR CHECK LIST.
PDF
Questions? Ask DebbyQ
adding dogs
SESSION 4
DIG =DISTRACTIONS Initiate GAMES
Steps to Success ~
Moving through an entry or between barriers.
This week set up or use an entrance such as baby gates, through a gate or doorway or on a sidewalk between hedges. This simulates a ring entrance.  If you can walk into the ring with focus, you have a positive beginning to a great performance.
Start with your dog in a stand, sit or fall into heeling from play.
Heel slowly towards the opening.
Release and reward your dog BEFORE your dog acknowledges the opening.
Repeat until your dog is confident.
The object is having focus and attention from your dog as you approach and eventually go through the opening. This is a crucial part for your showing later. Spend loads of time and don't be in a rush to go "through" the opening.  It is your dog's focus and attitude you are seeking.
Use the heeling games to release your dog.
Remember that distractions initiate games (DIG) from you!
Repeat this sequence until your dog is confident. This may mean practicing many repetitions in several training sessions.
Watch your dog for lack of focus, or signs of worry and stress (lip licking, pacing, ears held back, or a glazed look on his face). Be sure to release your dog before you see any of these signs.
If your dog makes a mistake, is he afraid, distracted, or is he blowing you off? Does he know the exercise? Being able to answer these questions will enable you to help your dog to be successful in any situation.
Remember to utilize "heeling games" to help keep your dog focused and motivated.
Use a consequence like the "u-missed it" game when your dog is not giving 100% effort or loses attention.
Proofing against distractions is a lengthy process. Do not rush or take shortcuts.
[leadplayer_vid id="579FAD1E08DFF"]
Your Task for    Week 
BEFORE PROGRESSING, REVIEW YOUR CHECK LIST.
PDF
Questions? Ask DebbyQ
Your Task for this Week 
BEFORE PROGRESSING, REVIEW YOUR CHECK LIST.
PDF
Questions? Ask DebbyQ
PDF Files useful for this week
Focus Fun A-Z 2023-Training-Log-______ Week-
Questions? Ask DebbyQ