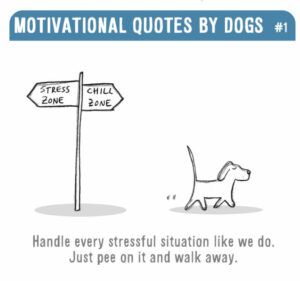 Stress can affect focus.  What do you do when your dog is stressed?
Page Links
Topic
Monthly Drill Progression
ReadySetGo
Self-Control
Tug Check-Up
Review
PDF Files
Stress and the Performance Dog
How many times have we seen a wonderful warmup only to see the team fall apart once they enter the ring?
Have you ever asked yourself why?
Was your answer the dog wasn't ready or the distractions were to much?
Did you consider that it actually might be the handler affecting the team?
Can Stress Affect Sports Performance?
Can Stress Affect Sports Performance?
Stress is a feeling that's created when we react to particular events. It's the body's way of rising to a challenge and preparing to meet a tough situation with focus, strength, stamina, and heightened alertness. A little stress or the right kind of positive stress can help keep you on your toes, ready to rise to a challenge. The events that provoke stress are called stressors, and they cover a whole range of situations — everything from outright danger to stepping into the ring at a major competition. Stress can also be a response to change or anticipation of something that's about to happen — good or bad. People can feel stress over positive challenges, like making a National team, as well as negative ones.
There are ways you can help yourself beat stress.
Here are a few –
Preparation – The Dog
One of the best ways to minimize stress when showing is being confident your dog is prepared. That is, he has been properly trained. First, you must be sure you have gone through all stages of training, teaching, randomizing reinforcements and most importantly "proofing." These stages should be done with all parts of all exercises and all skills your dog will perform in the ring. This includes going to new locations to train on a regular basis. When doing so, note your dog's attitude, attention and overall performance. Your dog should be able to correctly perform skills and exercises with the attitude, drive and focus you want to see when showing and this means "with no help or coaxing from you!" If possible, attend matches with the idea of "testing." If your dog is well trained, understands the skills under all circumstances and with different variables, YOU will be more confident when walking into a ring!
Mental — You
So many times a great team heads to the ring to only fall apart when they enter. It is amazing to see how the mental attitude of the handler often affects the outcome of a performance. You spend so much time training your dog, covering all the aspects of training but do you do the same for yourself?
Before you show your dog for the first time, be sure to take the time to read the Regulations rules that apply to your chosen venue. It will tell you specifics such as what type collar your dog may wear in the ring and what exercises or equipment your dog will have to perform. It is best to know and understand the rules before you step into the ring with your dog.
Next, prepare yourself mentally. If you train in one mental state (calm ready to act if your dog is incorrect or needs guidance) and you show in a different mental state (nervous, unsure and un-confident) your dog will respond likewise. After all you are a team and YOU are the leader!
Training "you" to mentally handle the stress and ever changing atmosphere of the ring should be at the top of the list for show preparation. Here is a list of the things that will help with mental toughness training.
1. Focus on the Present – Don't think about what is going to happen in 20 minutes. Or what happened in your past. Only focus on the present and taking that next step.
2. Have a Short Memory – Learn to let go and move on from failures and mistakes quickly so that you can achieve your goal.
3. Stay Positive – It is easy to become negative when a tough situation arises. Mentally practicing the ability to drive out the negative and reinforce with the positive is an acquired skill. The easiest and best method is to control your thoughts.
4. Get a ritual – We get up in the morning on the same side of the bed and brush our teeth. We get a cup of coffee and read email on our IPad. We go to train. We all have a ritual.
5. Enjoy the Battle – Telling yourself that you love the battle is a start. Over time as you grow accustomed to this thinking you can embrace the thought. Start by telling yourself you are enjoying this tough competition and force yourself to "smile" inwardly. It works.
6. Visualize your Future Self – That's right, get a mental picture of how you want to be in your future self. In order to get through this current tough hardship you have to not only survive – but thrive. Think of your future self and how it will feel to accomplish your goal. Use details to create a positively charged emotion that your mind will connect with.
7. Hang Around Winners – To get better, you have to train with (and hang around) those that are at or above a level you want to be at. To get mentally tough you have to do the same. Get in an environment where only the tough survive and you will see your mental conditioning rise after the first day.
8. Repeat Affirmations – Mental affirmations are a great method. Repeating words in your mind to help you focus on a task is an excellent way to cast off the extra chaos. It is harder for negative thoughts to enter your mind while you are chanting "I am a winner", "I will overcome". Come up with a few affirmations. Write them down and place them all around your house, car and in your training bag!
9. Calm Yourself – Have you noticed that the top competitors are calm during the toughest of situations? They have learned to calm themselves through conditioning to be ready for the unexpected. Yoga is an excellent method to calm your mind and body. The key is to find the method that works for you and begin to add it in to a daily routine.
Questions? Ask DebbyQ
Kandu
proofing mixing it up and off leash?
The Kandu drill is a great way to increase your dog's focus on knowledge of where you are located.
Goals – This week is to adding a new low distracting location and mixing up commands to test your dog's knowledge to the Kandu drill.
Reminders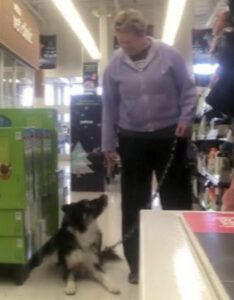 Use a NEW low distraction area.
Add a consequence if your dog does not immediately respond to your command. Step toward him and abort the repetition. Use a consequence such as a negative marker and or lightly pulling up on the leash, anything that you use when training.
NOTE: use treat rewards randomly while doing this drill. Instead, use loads of praise and petting with all correct responses.
Your Task for May
Progression
In a NEW low distraction area, using your sit and or down.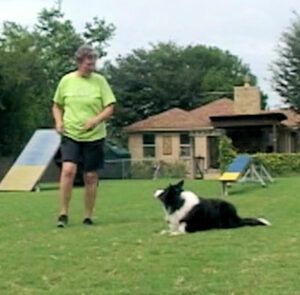 Start to walk on a loose leash with your dog.
While moving forward with your dog, give a sit/down command. Praise your dog for complying quickly.
If he does not respond to your command, immediately step in toward him and abort the repetition. Use a consequence such as a negative marker and or anything that you use when training.
Release your dog from the sit/down and start to walk again with your dog.
After a few steps, give the sit/down command again. Praise and reward for effort.
NOTE: I often do a few repetitions in a row. I.e., walk a few steps, sit, walk a few steps, down, walk a few steps, sit, etc.
COMMON ERRORS – Handlers Make
Giving more than one command for an incorrect or no response. When working with your dog, it is OK to repeat the command as you are add a consequence. If your dog gives no effort to down, use a consequence.
Waiting to see if your dog will respond to the command. In the long run, waiting for your dog to see if he will perform a down will teach your dog a "delay" in a command. In other words, if I ask my dog to down and wait 3 seconds to respond to compliance, then I am building in a 3 second delayed down. If you want your dog to respond quickly, YOU need to be ready to mark or abort an attempt that is less than your criteria.
Progression
The toughest location is saved for last.  Example, my dogs love the agility field, so this will be the last place I train this drill.
Practice this drill off-leash when in an enclosed area AND once your dog is consistent and confident in a variety of locations and doing a mix of different skills.
video – poe
Sly is first in the video.  He is demonstrating how he can do various commands while doing the Kandu drill.  Sly is an old pro with these drills so we are working this drill off leash.  During our training, we added a number of different commands to challenge Sly. 
In the last clip, Karrde and I have gone to a pet store to do some training with more distractions.  This environment definitely gives Karrde a run for his money.  Karrde gets praise with all good efforts, but when not paying attention, or responding quickly enough, I tease and give him a light poke in the side or turn toward him while I razz him.  We go to two different areas while in the store.  The second location is more distracting that the first.  Note how much more focus he is giving me by the end of the video.  Also, I used a slow delivery of a treat to test one of his downs.  I'm very pleased with Karrde's improvement with this drill.
Multi dogs
Video Notes:
Questions? Ask DebbyQ
RSG – Adding a Consequence – When your dog is not focused or lacking in effort, add a consequence.  Play  the "U-Missed It" game.  Tease and taunt him with the reward.  Let your dog smell the treat and then pretend to eat, or play with the toy by yourself.  Be theatrical and have fun without your dog.  This will make your dog want it even more!
Once you have applied a consequence, repeat the skill, and reward your dog if he gives you more effort and focus.  Simplify the exercise only if needed.  We want to challenge your dog, but we also want him to succeed in order to get rewarded for focusing on you.
Using a consequence when your dog is not giving 100% effort will teach him to "try harder" while training.
Your Task for May Week 5
ADDING CONSEQUENCES
When your dog is not giving you 100% effort or loses attention.  A well timed consequence will teach your dog to try harder while training and in the face of distractions.
Use a consequence, such as the U-Missed it.  Make sure to be theatrical as you tease your dog and entice him with what he missed.
"Air Cookie" Game – This game is when you pretend to spit or toss a cookie/treat.  After you pretend to toss or spit a treat, tell your dog to find the treat.  As he is looking for the treat, act like you are grabbing the treat off the floor.  Tease your dog with the fictional treat.  Have fun teasing your dog and be theatrical.  You can even pretend to eat the treat.
video
Video Notes:
BEFORE PROGRESSING, REVIEW YOUR CHECK LIST.
PDF
Questions? Ask DebbyQ
Self-Control – slow hand teaching
Slow Hands is how I reward my dog while he is in a stationary position.  This skill serves several purposes.   First, it teaches my dog that impatience makes the reward go away.  Also, it starts to add duration and proofing to stationary positions such as a sit, down, or stand.   Lastly and probably the best, it is a great way to reward and encourage self-control.
FUNdamentals
Grab some treats and put your dog on a leash.
Ask your dog to sit, as this is the easiest position to teach this skill.
While your dog is still in a sit, move a few feet in front of and face your dog.
Start to slowly deliver a treat.
As you bring the treat slowly to your dog, give him verbal feedback to tell him if he is right or wrong.  For example, while bringing the treat to your dog, if he starts to move, simply tell him "no" and quickly withdrawal your treat hand.
See if he will sit again on his own.   If not, place him back on a sit.
As soon as he is seated again, tell him "good dog," and begin to slowly deliver the treat again.
Release your dog from the sit position after giving your dog a few treats, use your release word and play or engage with your dog.  This is his time for a mental break.
Repeat the sequence a few times.  Sit, slowly deliver a treat, withdraw treat hand if your dog moves and give verbal input and praise, release.
Bump the Skill UP – Increase the distance and reward delivery angle; vary your dog's position.
After your dog is able to hold a sit 90% of the time and in various environments and situations, while the treat is slowly delivered, start to lengthen the distance and angle of the delivery of the food.
Examples- Hold the treat at his eye level or above his head, or from his right or left side.
IF at any time your dog starts to move or lean forward, QUICKLY withdraw your treat hand.
Remember this is where your dog learns that movement makes the treat go away!
Release your dog often and ask your dog to sit again and then reward at different angles.
When working on the sit, vary where your dog is sitting in relationship to your body.  Sometimes have your dog sit at your side or sometimes have your dog sit in front of you.  You can also ask your dog to sit and move your own body so that you are standing beside your dog or standing in front of your dog.  All of these changes help your dog to understand the skill in all situations.
Continue to gradually increase the distance (up to 6 feet) you are from your dog before slowly delivering a treat.
Add other positions such as the down or stand only when your dog is rock solid on the sit.
COMMON ERRORS – Handlers Make
Progressing too quickly.  Make sure your dog really understands his job before adding duration or distance.
Helping the dog to be correct.  I.e. delivering the treat quickly so the dog will not move.  Let your dog learn remaining still will get loads of treats, moving make the rewards go away.
Not withdrawing the treat hand quickly.  Really exaggerate moving your hand away.  This communicates to your dog that he has lost the opportunity to get the treat.
Give your dog verbal feedback to let him if he is right or wrong when training the Slow Hand skill.  For example, while bringing the treat to your dog, if he starts to get up, simply tell him "no" or "wrong" and quickly withdrawal the treat.  Only after your dog seats himself will you start to deliver the treat again.
Video Notes: First in the video, Karrde and I are working on Slow Hands.  He has only done this drill a few times, so we start easy and keep growing the drill with Karrde's success.  While training, I noticed that Karrde is looking away from the treat hand.  This is effort to be correct, as he is trying to ignore the treat so he will not get into trouble.  BUT I do not want him disengaging.   If he looks away, I stop motion and wait until he looks back.  When he does, he is praised and I continue my slow hand toward him.  During this session, we try from a down position as well.  When he moved, I marked the error and then placed him back on the down, I do not give another command.   At the end of our session, we added the
Jump To Hand
game randomly to keep Karrde on an ACTIVE sit.
Next in the video, Riker and I are working on his sit and remaining in place.  We have started adding distance between him and me during training.  Riker gets a reward occasionally just for the sit.  This is to maintain the "sit" behavior.  Once, Riker thinks about moving for the treat and thinks twice and decides to remain in place.  He got loads for praise for choosing correctly.
Before moving on to the next TAB.
Will your dog maintain his position regardless of the distance or angle the treat is being delivered?
Have you worked in different locations so your dog will generalize the behavior?
Questions? Ask DebbyQ
Your Task for May Week 4
BEFORE PROGRESSING, REVIEW YOUR CHECK LIST.
PDF
Questions? Ask DebbyQ
Your Task for    Week 
BEFORE PROGRESSING, REVIEW YOUR CHECK LIST.
PDF
Questions? Ask DebbyQ
monthly challenge
RSG
W2W
Balance
Slow hand – intro
Questions? Ask DebbyQ
PDF Files useful for this week
Focus Fun A-Z 2023-Training-Log
Questions? Ask DebbyQ