Training Tip and image ..
first of month – challenge instead of topic
goal is 4 skill topics per week
Page Links
Topic
Monthly Drill Progression
Line-Ups
Ring-A-Ling
title
title
PDF Files
Preparing for the Show Ring
Have an area that simulates a ring.  This can be an actual ring or barriers and equipment that you set up.
Plan where you will go to do your line-up.
Have in mind how you will get there, what games, etc. will you play on your way there or once there and your dog is in a sit.
NOTE:  I use the example of a sit at the end of a Line-Up, but it can be a down, sit, or even and stand.
Once you perform your Line-Up, praise and play with your dog.
Keep your dog engaged while leaving the area.
Repeat the process in different ways and using different games.
Think of all the ways you might need to Line-Up in the ring,  write your ideas down and practice them all.
Be ready next time you show!
Make your Line-Up a great FUN activity.   :>)
Be creative and imaginative inventing your own games to use on "Line Ups."  Have fun training your dog! Once your dog's focus and drive is apparent, continue to play a variety of "Line Up" games at least fifty percent of the time during training sessions for the remainder of your dog's career.
COMMON ERRORS – Handlers Make
Rewarding incorrectly.   Keep your reward where you want your dog to be.  In this case, in heel position.   BUT adjust the position as needed to enhance your training.  In other words, your dog sits behind you, reward a little forged and once the new position becomes habit, adjust again if needed.
Becoming boring on Line-Ups.  Hahaha.  This is easy to fix.  Be fun and reward a lot.  Mark the Line-Up activity something your dog looks forward to doing.
Video Notes – In this video, Sly, Riker, Karrde, and I are practicing Line-Ups for Rally or Obedience.  Of course, this training can be used for any sport that you enter a show ring or area.
Sly is first.  We work on entering the ring and rewarding.  The reward will be anything from treats to tug to praise and petting.  He LOVES lining up and finds it a very rewarding activity all in itself.
Riker is next.  He too loves this activity.  We enter the ring in various ways and even work on the Leash On/Off skills.  We add pivots and when he hits a chair with his rear end, I bump up the praise.  He will now associate hitting objects as a positive thing.
Last up is Karrde.  He is just learning about this skill and we are still building desire.  First, we work on him backing into the ring.  Hahaha.  Very hard for him, but I love the effort he offers.  Sorry, Sly is the noise maker in the background.  Karrde gets loads of reward for all his efforts.  His desire to do the skill is great, but he will continue to get more rewards for a while longer as we work on precision.
Video Notes – Karrde, Riker, Sly and I are working on Line-Ups for the Agility ring in this video.
Karrde is first in the video.  The environment is a very exciting place for him and is hard for him to control himself.  We add in Leash On/Off to our session too.  Overall, I am very pleased with his effort but I do see more work ahead of us.
Riker is next.  We also add Leash On/Off. Riker and I do several repetitions, approaching the start line several different ways.
Sly is last in the video.  We walk between two chairs as an entrance while practicing.  While training, I add games and fun when Sly does a great job.  When training, it will be important to practice lining up in front of different obstacles.
Your Task for this Week 
BEFORE PROGRESSING, REVIEW YOUR CHECK LIST.
PDF
Questions? Ask DebbyQ
Why tight locations?  This type of area is very distracting for a dog.   They feel confined and loose focus quickly.  That is a great reason  to use it for training.
What you need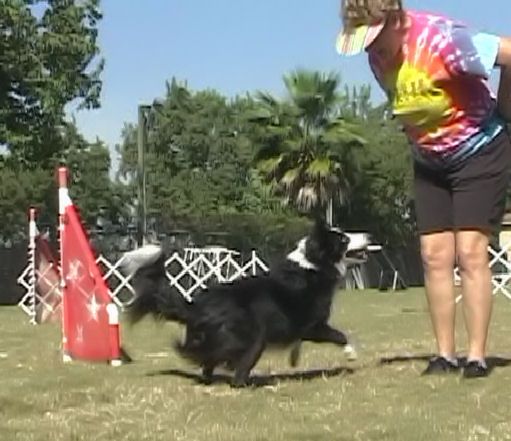 A dog eager to train.
A leash.
High value treats and toys.
An area with an opening that you can walk through, then work in an area to simulate a ring environment.
Building desire and adding skills in a ring environment.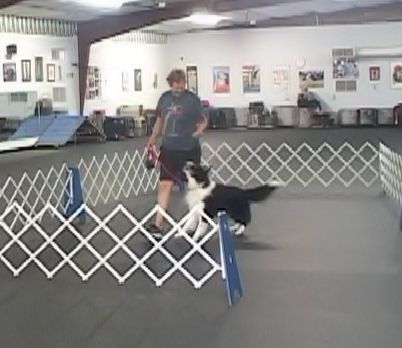 W

hen training this drill, have your dog on leash and on your right or left side.

Walk toward the "opening" maintaining focus from your dog. Remember to randomly add a surprising reward as we approach the entry.

Once through the opening, use transition games or play with your dog.  Thumb Touch, Spin, Line-Up, etc.   We want your dog to associate the environment with FUN!
When your dog does the skill, break and play tug or the KrazyKookie Game and leave the ring while you play and interact with your dog.
As soon as you are out of the ring, stop playing BUT do stay engaged with your dog back to his crate.
The next time you go out training this drill, change to a new location and repeat the above.
Bump the Drill UP
Once your dog has the general concept of the ring is FUN, bump it up by doing the "Rapid Fire" drill.
Play outside with your dog, go inside with focus, play, and leave again.  Your dog is always focused!
Next, play outside with your dog, go inside with focus, do one or more skills, play, and leave again with focus.  REMEMBER inside the ring should be kept fun!
This is a great "rapid fire" drill and really builds on having fun when in the ring.
PROBLEMS?
Your dog keeps looking at the gate opening and not at you.  Reward your dog further away from the opening. If you were going to 5′ feet from the opening, start to play with your dog ant 10′ feet.  Continue to do so until your dog is excited to approach the opening.
When starting to go through the gate, your dog starts to worry.  Take time to play more when you are approaching and starting to go through the opening.  Do not rush the process or try to go through the open before your dog is ready.
As soon as you enter the ring, your dog starts to worry.  Only play and make the setting rewarding for your dog.  Do not add additional sills until your dog will readily play and engage with you.
COMMON ERRORS – Handlers Make
Asking for too many skills before the desire is built on the activity of entering the ring.  Gradually increase the number of skills you train always keeping in mind desire is the priority.
Accepting a lack of focus in order to get into the ring.  NEVER accept less than criteria on the first skill, going into the ring, for the second skill.
Training too long.  Keep your sessions short and sweet.  Build the fun and focus BEFORE building duration or sequencing.
Video Notes:  First in this video is Karrde.  He is just starting to learn this drill.  On our first attempt to go into the ring, Karrde dropped his head.  The consequence used was a spit treat that he was not allowed to get.  Instead, I teased him, then we tried to enter the ring again.  The second attempt was more successful, and Karrde was rewarded for his effort.  We then proceeded to do our planned training, line-ups and transition skills.  Karrde was actually better than I expected during this training session.
Next up is Riker.  He enters the ring like a professional.  Between our play sessions, we do some heeling, line-ups, and thumb touches.  During a section of the thumb touches, Riker was trying to see the toy I had in my right hand.   GREAT training opportunity!  When Riker does well,  he is praised and rewarded.  If he doesn't maintain criteria, I give him a negative maker to let him know his effort was not correct.
Sly is last in the video.  He has years of a positive association in rings.  While training, I insist that Sly gives effort and also is accurate with all skills.  We practice, spins, line ups, thumb touches, and backing up.  Always great fun to train with Sly.

During all three training sessions, first and foremost, I want to build my dog's desire and fun to be in the ring.  Next, is followed with my dog's effort to perform, and lastly the accuracy of my dog's criteria of skills.  As this drill is built, my dog's focus will grow.

Video Notes: This video is Ring-A-Ling in an Agility training area.
First in this video is Karrde.  This is a tough location for him.  Right now, what I want from Karrde is focus and effort to perform skills.  Overall, he does a nice job.  When leaving the ring, he lost focus and as a consequence, I poked him in the side a few times and then played the U Missed It game.   He made an effort after that.
Riker is next.  He knows this game, so we can ask more of him during the session.  At first we play.  Then I take the leash off making sure he is focused on me as it is removed.  Leash On/Off.   After, we play and then I ask for a skill and play again.  This is how I build FUN.  I only build on a sequence of skills when I see Riker giving me his utmost.  A few times, I make sure he misses the toy I offer.  This too will increase his effort and focus.  We even work on a bit of Watch2Win that is taught in the Gmes4Focus class at the end of our session.
Sly is last and we are showing another twist on this drill.  This is a great "Rapid Fire" drill and really builds on focus and desire.  Go into the ring with focus, play, and leave.  Play outside, go inside with focus, skill, play, and leave again.  We repeat going in the ring with focus, doing a skill or two, then leaving again.
During this drill, it is always focus going inside, focus and play/skills while in, and then focus out.
Your Task for this Week 
BEFORE PROGRESSING, REVIEW YOUR CHECK LIST.
PDF
Questions? Ask DebbyQ
Your Task for this Week 
BEFORE PROGRESSING, REVIEW YOUR CHECK LIST.
PDF
Questions? Ask DebbyQ
Your Task for this Week 
BEFORE PROGRESSING, REVIEW YOUR CHECK LIST.
PDF
Questions? Ask DebbyQ
PDF Files useful for this week
Focus Fun A-Z 2023-Training-Log
Questions? Ask DebbyQ