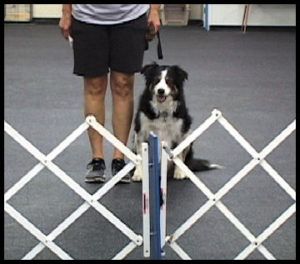 The GO-OUT – The handler will stand in the center of one side of the ring with the dog sitting in heel position, about 20 feet from the jumps and midway between them.  Upon order from the judge, the handler will command and/or signal the dog to go forward at a brisk trot or gallop to a point about 20 feet past the jumps in the approximate center of the ring.  When the dog reaches this point, the handler will give a command to sit.  The dog must stop and sit with its attention on the handler, but it need not sit squarely.  To get the most from this class your dog should know how to sit.
This class is only offered once a year! Sign Up NOW! 
This is Part 1 of 2 parts.  Directed jumping class will continue Go-Outs + add Directed Jumping. 
This class has all you need to train HOW to teach, perfect, and proof the Go-Out.
(NOTE: Directed Jumping is taught in a separate class.)
What you get with this class:
*"How to Teach" videos and written instructions.
*Games to build desire and focus.
*Best ways to sequence, maintain desire, and build accuracy.
*Problem Solving common issues.
*Proofing, the last and best step for your success.
*Easy to use training log.
*Points to Remember PDF.
*6 month access to content.
*Video feedback and questions answered from me, DebbyQ
*4 weeks in a private Facebook group.
Registration now closed
Once registered for class, you will be redirected to a class information page AND will also be sent an additional email about this class.