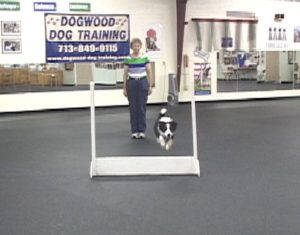 Description of the Exercise: This exercise is similar the Retrieve on the flat, except that dog must jump a solid jump (a high jump), retrieve a dumbbell, and return over the jump to the handler. The high jump is as high as the dog's shoulder height. The handler and their dog line up on one side of the high jump. On command from the judge, the handler throws a dumbbell over the jump. The handler then commands their dog to retrieve the dumbbell. The dog must jump over the jump, take the dumbbell, and with the dumbbell in his mouth return to the handler by jumping over the jump again. The remainder of the exercise is the same as the Retrieve on the Flat.
Prerequisite – Your dog should be able to retrieve and hold a dumbbell before teaching Retrieve over the high jump.
Photo
Description of Exercise:
This class is only offered once a year!
Registration closes ————— and Questions will be answered until —————.
This class has all you need to train HOW to teach, perfect, and proof ——————-.
What you get with this class:
"How to Teach" videos and written instructions.
Games to build desire and fun.
Learn the best way to Sequence and maintain desire and build accuracy.
Proofing. The last and best step for your success.
Easy to use training log.
Points to Remember PDF.
6 month access to content.
4 Weeks to ask questions via Forum.
Please review and teach the foundation games, Jump to Hand, Cookie Toss Game and Get It Game before proceeding with this class.

This class is only offered once a year! Once the maximum number has been reached, the class will be closed.