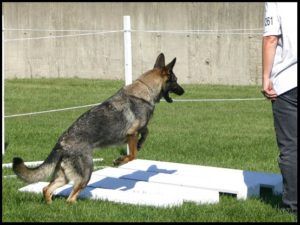 Description of Exercise: The handler will stand with the dog sitting in the heel position at least 8 feet from the jump facing the lowest side of the lowest hurdle. On order from the judge, the handler may give a command and/or signal to Stay and will go to a position facing the right hand side of the jump and stand at least two feet back from the jump within the range of the first and last boards. On order from the judge, "Send Your Dog", the handler may say the dog's name and give a command or a signal to jump. The dog must clear the entire width within the outside lines of the jump and return to the handler, then sit directly in front without further command. The handler must pivot to his or her right while the dog is in mid-air of the jump. On order from the judge to "Finish", the handler may give a command or signal for the dog to go briskly to the heel position and sit.
This class is only offered once a year!   Limited working slots available.
This class has all you need to train HOW to teach, perfect, and proof  your Broad Jump.
What you get with this class:
* "How to Teach" videos and written instructions.
* Games to build desire and fun.
* Learn the best way to Sequence and maintain desire and build accuracy.
* Problem Solving common issues.
* Proofing. The last and best step for your success.
* Easy to use training log.
* Points to Remember PDF.
* 6 month access to classroom content.
* Video feedback and questions for 4 weeks in a private Facebook Group.