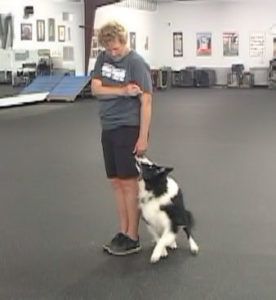 STOP just DREAMING of perfect FINISHES.
Now is the TIME!
Finishes seem to be an easy skill to teach and yet so many find it HARD.   The challenge is keeping your dog accurate and confident while maintaining speed and desire.
This class is the Second of Three F&F classes.  They each have skills and games that are needed for future classes.  Once you have finished Fronts-Games & Skills -Pt1, it's time to get to training those for those awesome finishes. 
This class has all my SECRETS, games, techniques, and drills to help you have great finishes.   Don't miss out!
This Finishes – Pt2 Class contains:
* Games – to build desire and FUN!
*Gadgets – and HOW to use them properly.
*Cues – to MAXIMIZE your dog's learning.
*Teaching techniques that WORK! 
*FUN drills to challenge your dog's knowledge and improve position.
*Pdf training files
*Access to class content until 12/31/22
*Live ZOOM Meeting.
* 4 Week private Facebook Group.
+Bonus files and materials
This class is packed with ways to get a GREAT Finish!
See what past students are saying!
Tanya M says "I just wanted to thank you for all the encouragement. I am enjoying the online classes so much and the fab fronts class and where I should be looking on finishes really has helped me. Your advice helped so much that today my golden girl earned her Otch and another high combined😊. It has been a great day. Again thank you for your help."
Kay B says "Loved the class, Debby! Learned some great stuff and had lots fun! I saw Danny grow up during this 4 weeks and our relationship improve!! Can't ask for more than that!! Thanks for all of your help!!"
AUDIT coming soon!